PHONE: 886-4-25294792
F A X : 886-4-25294793
E-Mail: icfeco@ms1.tisnet.net.tw
IUNG CHENG FA MAGIC MAID TM DELUXE PRECIPITATOR
COMMERCIAL & INDUSTRIAL, IN-DUCT (HORIZONTAL FLOW)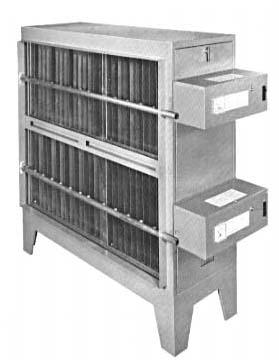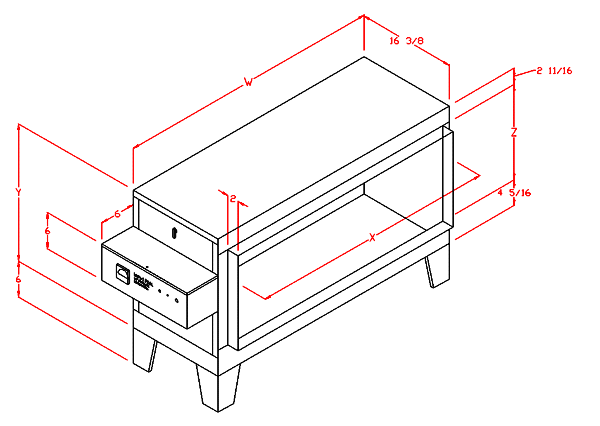 3 through 8 Ton Units

Specifications*

Model 3-12H1

Model 3-16H1

Model 3-20H1

Model 3-24H1

Model 3-30H1

Model 3-32H2

Air Flow Cap. at 90% Efficiency

1200 cfm

1600 cfm

2000 cfm

2400 cfm

3000 cfm

3200 cfm

Air Conditioner Tons

3 Tons

4 Tons

5 Tons

6 Tons

7-1/2 Tons

8 Tons

Air Flow Resist. (WG)

.10"

.10"

.10"

.10"

.10"

.10"

Cabinet Dimensions

W- Width

26-9/16"

36-3/16"

44-7/16"

51-5/16"

65-3/4"

36-3/16"

X- Duct Opening

23-1/16"

32-11/16"

40-15/16"

47-13/16"

62-1/4"

32-11/16"

Y- Height

23"

23"

23"

23"

23"

41-1/2"

Z- Duct Height

15-7/8"

15-7/8"

15-7/8"

15-7/8"

15-7/8"

34-3/8"

Cell Removal Clear.

27"

20"

25"

27"

25"

20"

Approx. Shipping Wt.

140 Lbs.

175 Lbs.

200 Lbs.

225 Lbs.

250 Lbs.

300 Lbs.

Power Packs:

1

1

1

1

1

2

Volts

115

115

115

115

115

115

Hertz

60

60

60

60

60

60

Watts (Per Pack)

30

40

45

50

45

25

Integral Wash Systems

Water Inlet

3/4"

3/4"

3/4"

3/4"

3/4"

3/4"

Drain Flange, IPS

2"

2"

2"

2"

2"

2"

Water Req. at 40 PSI Per Tier (GPM)

11

14

20

22

29

14

10 through 22-1/2 Ton Units

Specifications*

Model 3-40H2

Model 3-48H2

Model 3-60H2

Model 3-60H3

Model 3-72H3

Model 3-90H3

Air Flow Cap. at 90% Eff.

4000 cfm

4800 cfm

6000 cfm

6000 cfm

7200 cfm

9000 cfm

Air Conditioner Tons

10 Tons

12 Tons

15 Tons

15 Tons

18 Tons

22-1/2 Tons

Air Flow Resist. (WG)

.10"

.10"

.10"

.10"

.10"

.10"

Cabinet Dimensions

W- Width

44-7/16"

51-5/16"

65-3/4"

44-7/16"

51-5/16"

65-3/4"

X- Duct Opening

40-5/16"

47-13/16"

62-1/4"

40-15/16"

47-13/16"

62-1/4"

Y- Height

41-1/2"

41-1/2"

41-1/2"

60"

60"

60"

Z- Duct Height

34-3/8"

34-3/8"

34-3/8"

52-7/8"

52-7/8"

52-7/8"

Cell Removal Clear.

25"

27"

25"

25"

27"

25"

Approx. Shipping Wt.

325 Lbs.

350 Lbs.

400 Lbs.

450 Lbs.

500 Lbs.

600 Lbs.

Power Packs:

2

2

2

3

3

3

Volts

115

115

115

115

115

115

Hertz

60

60

60

60

60

60

Watts (Per Pack)

45

50

25

45

50

45

Integral Wash Systems

Water Inlet

3/4"

3/4"

3/4"

3/4"

3/4"

3/4"

Drain Flange, IPS

2"

2"

2"

2"

2"

2"

Water Req. at 40 PSI Per Tier (GPM)

20

22

29

20

22

29
*- Prefix the model number with C for Commercial units & I for Industrial units.
*-Larger models available on request
Note:
1. If the pollutant to be filtered is a dense cloud, the capacity of the precipitator should generally
1. be doubled. This will provide efficiency and also reduce the frequency of maintenance.
1. Rental units are available for testing.
2. The industrial units can handle temperatures up to 180¢XF.
3. Units as low as 400 cfm are available upon request.
4. Units for suspension are supplied without legs.
5. All units can be used outdoors, but must be ordered for such use since they would require
5. remote power packs.
6. A power pack is used for each tier of Collecting Cells to assure at least partial performance
6. in the event of a malfunction. It also simplifies service by interchanging power packs or
6. components.
ACCESSORIES:
1. Control A-Which is a manually initiated Timer designed to wash and dry the Precipitator
1. through a single push button control.
2. Initiator Clock- Used with Control A to provide completely automatic wash and dry cycle of
2. the Precipitator at a selected hour, daily, or weekly interval.
3. Kit for Roof Top or Remotely Located Power Pack.
4. Detergent Pump.