PHONE: 886-4-25294792
F A X : 886-4-25294793
E-Mail: icfeco@yahoo.com.tw
IUNG CHENG FA MAGIC MAID TM DELUXE PRECIPITATOR
RESIDENTIAL, WATER WASH (HORIZONTAL & VERTICAL FLOW)
2-1/2 Ton Through 3 Ton Units

SPECIFICATIONS

MODEL 4-10H

MODEL 4-10V

MODEL 4-12H

MODEL 4-12V

Air Flow Capacity At 90% Efficiency

Horizontal 1000 cfm

Vertical 1000 cfm

Horizontal 1200 cfm

Vertical 1200 cfm

Air Conditioner Tons

2 1/2 Tons

2 1/2 Tons

3 Tons

3 Tons

Air Flow Resistance (wg)

.10"

.10"

.10"

.10"

Cabinet Dimensions:

W-width

22-11/16"

22-9/16"

26-1/8"

26"

X-Duct Opening

19-5/8"

19-5/8"

23-1/16"

23-1/16"

Cell Removal Clearance

24"

24"

27".

27"

Legs & Cradle

Optional

Standard

Optional

Standard

Approximate Shipping Wt.

85 lbs.

105 lbs.

95 lbs.

115 lbs.

Power Pack:

Volts

115

115

110

110

Cycles

60

60

60

60

Watts

28

28

30

30

Water Wash System:

Water Inlet

1/2"

1/2"

1/2"

1/2"

Drain Nipple

1-1/2"

1-1/2"

1-1/2"

1-1/2"

Hot Water (GPM) at 125 F At 30 PSIG-Suggested

7

7

8

8

4 Ton Through 5 Ton Units

SPECIFICATIONS

MODEL 4-16H

MODEL 4-16V

MODEL 4-20H

MODEL 4-20V

Air Flow Capacity At 90% Efficiency

Horizontal 1600 cfm

Vertical 1600 cfm

Horizontal 2000 cfm

Vertical 2000 cfm

Air Conditioner Tons

4 Tons

4 Tons

5 Tons

5 Tons

Air Flow Resistance (wg)

.10"

.10"

.10"

.10"

Cabinet Dimensions:

W-width

35-3/4"

35-5/8"

44"

43-7/8"

X-Duct Opening

32-5/8"

32-11/16"

40-7/8"

40-15/16"

Cell Removal Clearance

20"

20"

24"

24"

Legs & Cradle

Optional

Standard

Optional

Standard

Approximate Shipping Wt.

120 lbs.

145 lbs.

150 lbs.

175 lbs.

Power Pack:

Volts

110

110

110

110

Cycles

60

60

60

60

Watts

40

40

45

45

Water Wash System:

Water Inlet

1/2"

1/2"

3/4"

3/4"

Drain Nipple

1-1/2"

1-1/2"

1-1/2"

1-1/2"

Hot Water (GPM) at 125 F At 30 PSIG-Suggested

10

10

13

13
Efficiency as determined by ASHRAE 52-76 Test Method using Atmospheric Air
Vertical Flow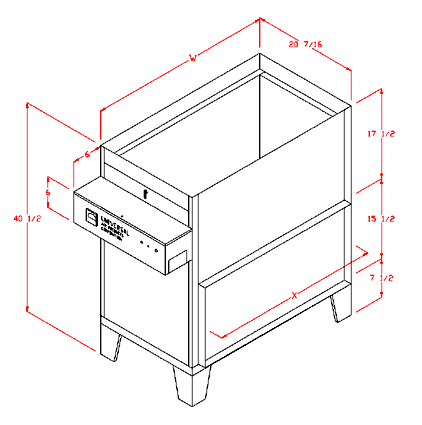 Vertical flow units are shipped for the flow down and out the left side.
Flow direction is easily reversed.
Horizontal Flow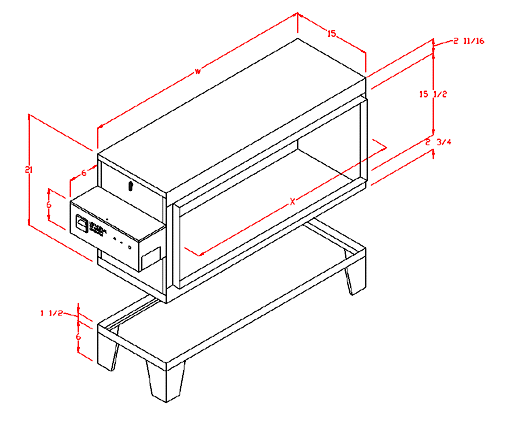 Horizontal flow cabinets are shipped with air flow from left to right facing control panel.
Direction of air flow is easily reversed.
Horizontal flow units can be suspended or floor mounted.
All are furnished with bolts for suspension.



Right Hand




Left Hand

Suspended